Professional Cajon and Kalimba Manufacturer--Gecko Musical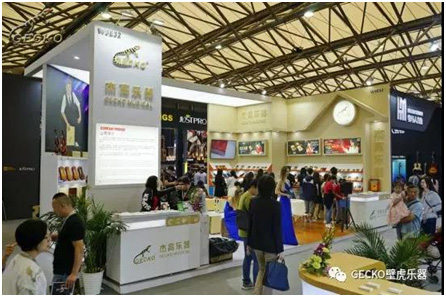 On Oct 13th , A grand musical instrument exhibition -2019 China(Shanghai) International musical Instrument Exhibition concluded successfully in Shanghai new international expo center.The four-day exhibition had attracted more than 2200 Chinese and foreign musical instrument companies from more than 30 countries and regions who brought new products and competitive products to Shanghai. All companies competed with each other. In the mean time,the exhibition had also gathered for hundred thousands of music fans, teachers and dealers to celebrate the annual grand event together which belongs to musical instruments.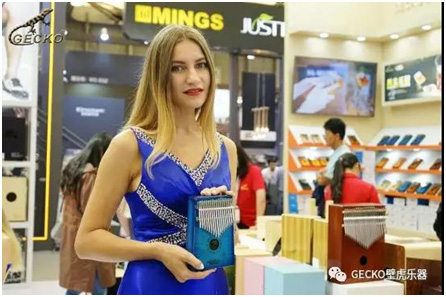 As a well-known musical instrument brand in China, Gecko musical instrument had many wonderful moments and had attracted much attention in the exhibition. As a regular of Shanghai musical instrument exhibition, Gecko musical instrument has been always caring. It brought the practical and novel musical instruments for these music fans. Such as cajon, kalimba,lyre harp and so on which had both good quality and look. It also attracted much attention of music lovers to consult and experience in Gecko stand, to feel the distinctive music experiences that Gecko musical instrument brought.
In the exhibition, Gecko musical instrument displayed not only many beloved and best-selling kalimba for music lovers, but also series of Gecko lyre harp and cajon with unique and novel look, excellent quality and good touch.It had drew many eyes for Gecko musical instrument and made Gecko to be the best choice for these music lovers.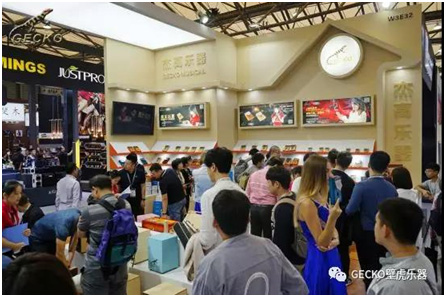 In addition to so many excellent products , Gecko promotion ambassador April Yan, Gecko spokesman Tong Chen, actor Da Mu and Paul from Brazil presented in Gecko stand to support Gecko. Other actors like Haohan Hao also presented in Gecko stand with much surprises and benefits which making the trip rewarded. Instrumental ensemble of Tong Chen, Haohan Hao and music lovers, kalimba performance of April Yan had both attracted a large crowd to look. It's really hot!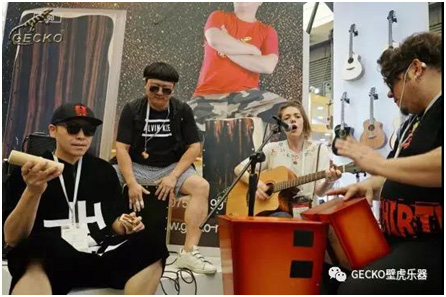 In the exhibition spot ,Tong Chen tried series of gecko cajon, and rated all cajons highly."Gecko is one of my favorite musical instrument brands.Dedicate look,comfortable touch,full tones showing strong rhythm.For me ,it's really enjoying while i am playing cajons!"
As a biggest and most professional cajon manufacturer, Quality of Gecko cajons are guaranteed .Gecko has focused not only on quality ,but also on environmental protection. All finishing coat are good for health and environment.Players can enjoy and be secured.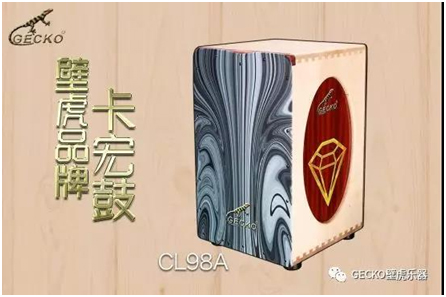 Especially, the appearance of Gecko cajon CL98A had won many hearts of fans.Body with solid maple and tapping with birch , plus sound effect of the strings make the tone be more strongly and fully.The cajon become more dedicated and artistic on the base of quality guarantee while adding creative design on natural wood color of appearance.It also had attracted the crowd to linger in Gecko stand.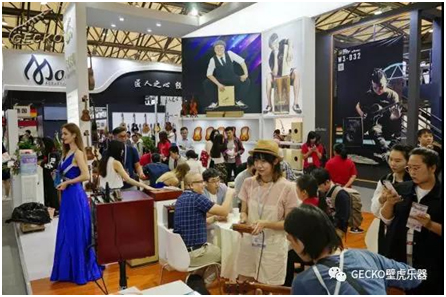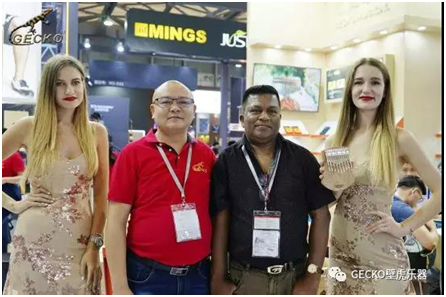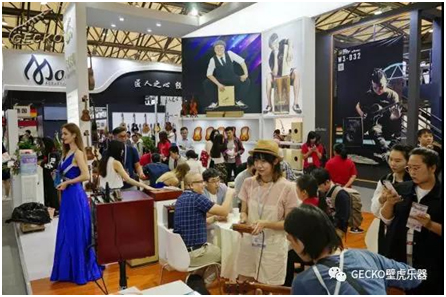 My Heart Will Go On (Titanic)-GECKO Kalimba Cover
The annual Shanghai musical instrument exhibition concluded perfectly ,but so many wonderful moments and moving that Gecko musical instrument had brought to everyone still make us deeply missing. In future,Gecko musical instrument will continue to explore and move forward in music world. Let's back to 2020 Shanghai International Musical Instruments Exhibition ,see you next year!
---
Post time: Dec-10-2019