Select a Model Below to Start Customizing Your Lyre Harp Now!
Gecko Harps offers an unequalled sound quality, uses exclusive production technologies and counts on skilled and passionate craftsmen. The range includes harps for each investment choice: from beginners to students, from teachers to performers on stages around the world.
Our mission is to provide the best quality products and service in the industry. It doesn't matter if you are building 1 lyre harp or 1,000 lyre harps, the quality of your order and your satisfaction are our #1 priority.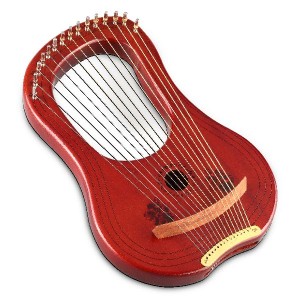 Tone: G Tone
Size: 400x250x35mm
Material: Solid Mahogany Wood
Color: Reddish Brown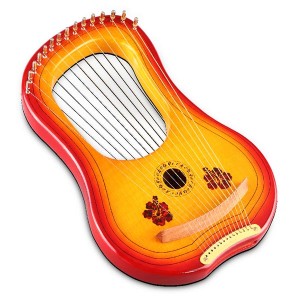 Tone: G Tone
Size: 400x250x35mm
Material: Solid Maple Wood
Color: Sunset Color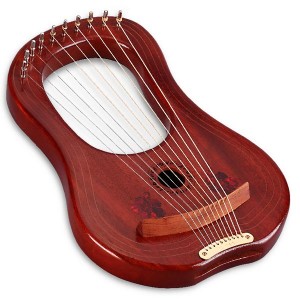 Tone : C tone
Size : 400x250x35mm
Material : Solid mahogany wood
Color :Reddish Brown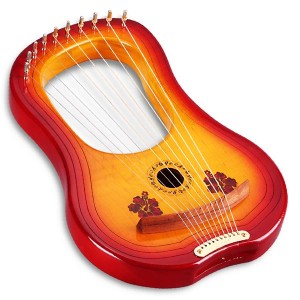 Tone : C tone
Size : 400x250x35mm
Material : Solid maple wood
Color : Sunset Color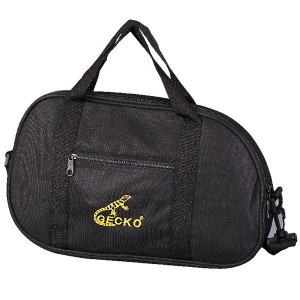 Size: 410x260x37mm
Surface: 600D Oxford
Lining: 190T Nylon
Color: Black
Find the Best Custom Lyre Harp for You at GECKO
Gecko Musical Instrument has focused on top quality Musical instrument since 2009 in China. Through years of development, we are now one of the leading suppliers in the musical instrument industry and a professional lyre harp manufacturer in China. Lyre Harp factory located in Huizhou city of Chinese, mainly specialized in produce all Kind of Lyre harps, cajon,electric guitars and kalimba. Our company aim is " Client's the first, quality the best !" Welcome to contact us, any of your inquiries will be highly valued and under professional assistance by our experienced sales team.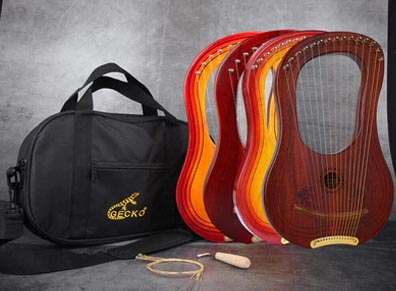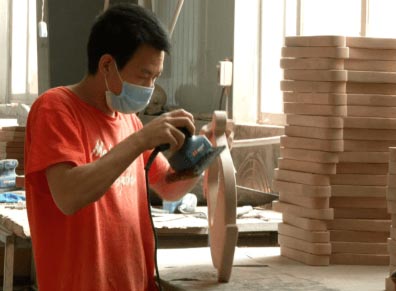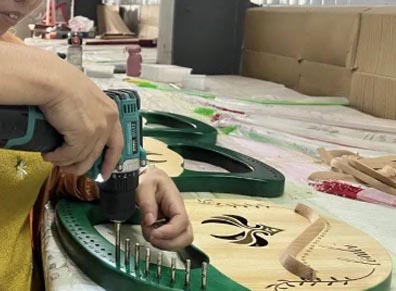 - Support Drop Shipping.
- Support Free Laser Engraving Your Own Logo.
- Support Customize Your Own Drum Style.
Single package size: 23X38X6 cm
Packing Way: 1 lyre harp into 1 small carton box
Single gross weight: 1.0 kg
1.Premium Material: The harp is carved from mahogany , featuring warm sound and pleasant tone. The high hardness and density of the wood is enough to maintain the tone and prevent the strings from acting on the wood.
2. Rigorous quality control: Gecko Lyre Harp has a rigorous quality control process to ensure that the harp strings meet their exacting standards. Every harp string is checked for pitch, tone, and tension before it is packaged and shipped.
1. More than 10 years experienced manufacturer in musical instrument.
2.OEM ODMproduction is welcome. ,If you have ideas please send the data to us.We will reply you as soon as possbile.
3.We have a professional R&D team dedicating in creational new more products
4.We have a QC team allowing quality control on every process of production.
5.Our products have bee sold to Europe, the United States and Asia and other global markets, musical instrument manufacturers,distributors around the world, and Amazon.
We usually use neutral cartons for packing. If you have a legally registered patent, we can pack the goods in your brand box after receiving your authorization letter.
T/T 40% as deposit and 60% before delivery. Before you pay, we will show you the pictures of the products and packaging.
A: EXW, FOB, CFR, CIF, DDU, DDP
B: Generally speaking, It takes 30 to 40 days after receiving your advance payment. The exact delivery time depends on the product you ordered and the quantity.
1.Leadtime: 30-40 days;Service : OEM/ ODM wholesale
2.Wholesale in our factory brand in stock: 1~3 days
All the days mentioned above are counted from after receiving your payments.
Yes, we can make it according to your samples or technical drawings. We can make molds.
Yes, we can provide samples, But the customer has to pay the sample fee and the Courier fee. We can refund the sample fee after the official order.
Yes, We did a 100% test before delivery.
For quality guarantee for 6 months no human damage.
At first, please let us know the following details:
(1) mode of transport (by express, by air or by sea )
(2) your address, or the name of your nearest airport / sea port.
(3) your order quantities.
We maintain good quality and competitive prices to ensure the interests of our customers;
We respect every customer, Treat them as friends, Do business with them sincerely, Make friends with them, No matter where they come from.
Frequently Asked Questions
The lyre harp is a string instrument known for its use in Greek classical antiquity and later periods. The lyre is similar in appearance to a small harp but with distinct differences. In organology, lyres are defined as "yoke lutes", being lutes in which the strings are attached to a yoke that lies in the same plane as the sound-table and consists of two arms and a cross-bar.
In Ancient Greece, recitations of lyric poetry were accompanied by lyre harp playing. The earliest picture of a lyre with seven strings appears in the famous sarcophagus of Hagia Triada . The sarcophagus was used during the Mycenaean occupation of Crete.
The lyre of classical antiquity was ordinarily played by being strummed with a plectrum (pick), like a guitar or a zither, rather than being plucked with the fingers as with a harp. The fingers of the free hand silenced the unwanted strings in the chord. Later instruments, also called "lyres", were played with a bow in Europe and parts of the Middle East, namely the Byzantine lyra and its descendants.
Harps differ from Lyres in terms of sound, sound production, construction, size, and versatility. A harp is typically much larger than a lyre and may be placed on the floor while a lyre is held in the lap. Harps generally have more strings than a lyre and produce a louder sound due to the instrument's design.
In short: Yes, the lyre (lyre harp) is one of the easiest instruments to learn how to play, even for beginners. What is this? In fact, it is a perfect first instrument to learn. They require minimal effort to play, the sound is soft and quiet, and since they are diatonic you will be able to pick out tunes much quicker.
Arguably 1 to infinity strings, but the vast majority of lyres will have 5-16 strings, above 20 generally being considered large lyres, in some cases held and played much like a small harp, but considered lyres for technical reasons.
With modern hindsight, the lyre is heavily associated with the Ancient civilizations of the Middle East (including the Israelites), Ancient Greece, and the Middle Ages of Europe. Lyres died out in many places, but survived to relatively recent time in Sub-Saharan Africa, parts of the Middle East, Scandinavia (the bowed lyres), and in other small niches.
Yes, the lyre is a very easy instrument to learn how to play, since it is tuned diatonically it will basically sound good whatever you play.
It's a very simple design, and making notes that sound good is very easy compared to many other instruments.
The lyre is also a very quiet and soft instrument, which means practicing without annoying others will be easy.
The only real issue for most people will be tuning the strings, which you have to do often since it is a string instrument, and it can be very frustrating since most lyres don't have tuning pegs, but tuning screws based on friction alone.
Similar to the dulcimer, the lyre harp is known for its "sweet and warm" sounds. Traditionally, the lyre harp is held by the musician in his or her lap. A pick (sometimes called a "plectrum") is used by one hand while the fingers of the other hand silence the strings that are not needed.
Lyre Harps are extremely versatile instruments. They can be used for a wide range of genres, from classical to contemporary.
Lyre Harps are very portable, making them ideal for traveling musicians.
Lyre Harps are relatively affordable, especially when compared to other stringed instruments.
Lyre Harps have a calming, soothing sound that is perfect for relaxation or meditation.
* Ancient Greek, middle eastern and Davidic lyres tend to have around 8 to 11 notes, and often had 10 strings.
* 10 strings are a common style in the marketplace.
* Good for folk music.
The craftsmanship and quality of the instrument is one of the most important things when buying a lyre – or any instrument, for that matter.
You want the lyre to be structurally sound and sturdy, even if the aesthetics aren't that pleasing to the eye.
But you're in luck, since you can have both with a lyre harp – it's easy to find one that's pleasing to the eye AND made with high quality.
Levers
The next thing to look for on a lyre harp are the levers. Make sure they are great quality and don't loosen or get stuck.
Strings
This is fairly easy. Determine how many strings you want on your lyre harp. There are typically between 8 and 16 strings on them.
You also want to make sure you can still play all the music that you want to on the ones with a lower string count.
Don't forget to load up on some backup strings too. When a string goes out of commission, it's a pretty frustrating feeling to realize you forgot to purchase those extra sets.
Usually, the more you pay, the better quality of harp you're going to get.
When buying a lyre harp, you should consider factors such as the size, number of strings, material quality, and sound quality.
Some of the best brands for lyre harps include Gecko,Lyon & Healy, Dusty Strings, and Salvi.
You should properly store your lyre harp in a cool and dry place, and make sure to keep it clean and free of dust and moisture.
The best way to learn to play the lyre harp is to find a qualified instructor who can provide lessons and guidance. You can also learn by practicing regularly and studying instructional materials such as books and videos.