Popular OEM Acoustic Guitar
Gecko is one of the best custom acoustic guitars manufacturer & suppliers.The characteristic of Gecko Guitar is that all products use linden wood, as well as different types of wood, such as Mahogany, Spruce, and Sapele.This year we have developed many new models. All products offer OEM service.
Whether you're looking for branded giveaways at an event, promotional gifts, or simply want to improve your shop brand, custom guitars are a perfect choice. So why wait? Start shopping for your custom guitars today!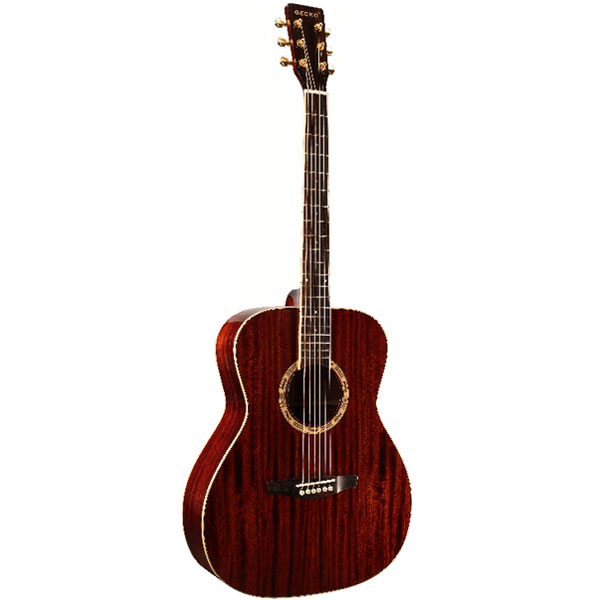 Front board: Solid mahogany
Back &side board: Solid mahogany
Neck: Mahogany
Bridge/Fingerboard: Ebony
Up&down pillow: OX bone
Grover: Chrome closed twist
Pick up: U2
Finish: High glossy
Binding: Maple
Guitar bag: 20mm 600D oxford bag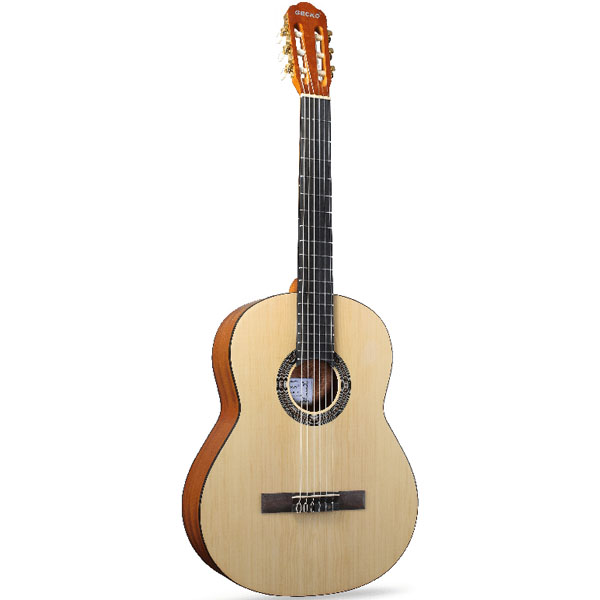 Style: 39" Classical guitar
Front Board: Spruce
Back/side board: Sapele
Neck: Okoume
Fingerboard/bridge: Rosewood
Up/down pillow: Plastic steel
Grover: Gold Classical
String: D'Addario
Binding: ABS
Finish: Matt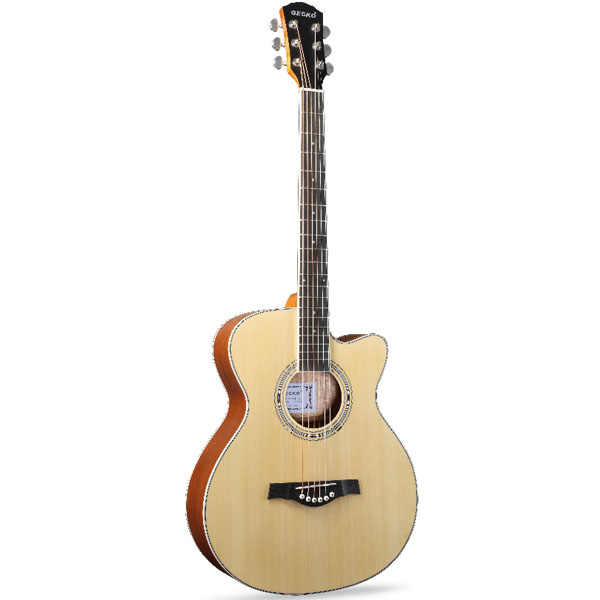 Style: 40" Cutaway acoustic guitar
Front Board: Spruce
Back/side board: Sapele
Neck: Okoume
Fingerboard: Rosewood
Up/down pillow: Plastic steel
Grover: Chrome closed twist
String: D'Addario
Binding: ABS
Finish: Matt
We are the leading guitar manufacturer in China. We have a professional creative team to develop professional guitar manufacturing. Our main factory is here over 5000 square meters.
We specialize in guitar manufacturing for more than 10 years. Our high-level technical team has rich experience and strict management, constantly developing new styles and perfect guitars. We are proud that each guitar passes 3 quality inspections.
Gecko guitars are typically made with solid wood or laminated wood bodies, using materials such as mahogany, spruce, maple, or basswood. We offer various shapes and designs, such as dreadnought, concert, or electric guitar styles, and different finishes, including natural, sunburst, and solid colors.
If you contact us with your thoughts, we can give you an estimate of the costs in doing your custom designs, as well as production costs based on the quantities you plan to purchase.

We have the latest guitar production machines, mature production workers and a complete production system. Before manufacturing,we strictly classify and select the raw materials of the guitars. The production process is rigorous, and multi-quality inspection procedures ensures the quality of each guitar. All high-end guitar such as the famous acoustic guitars are all from here.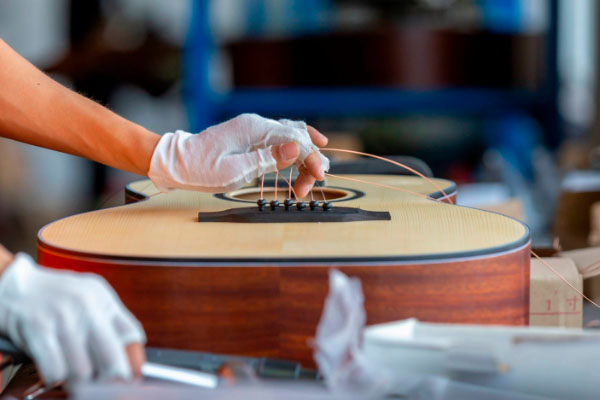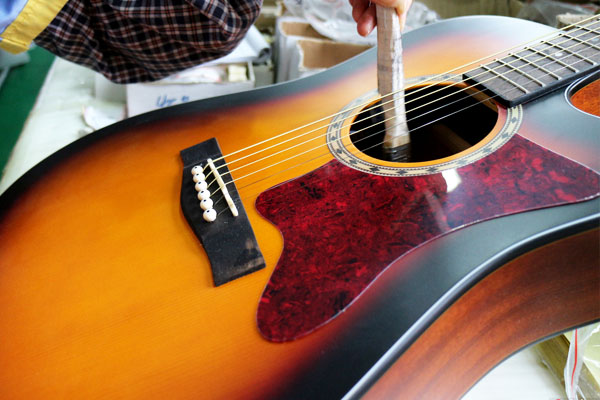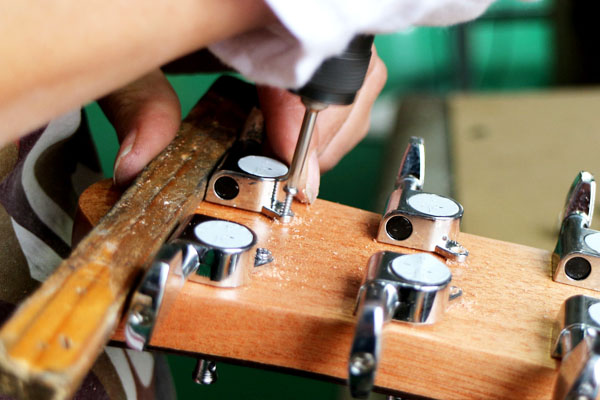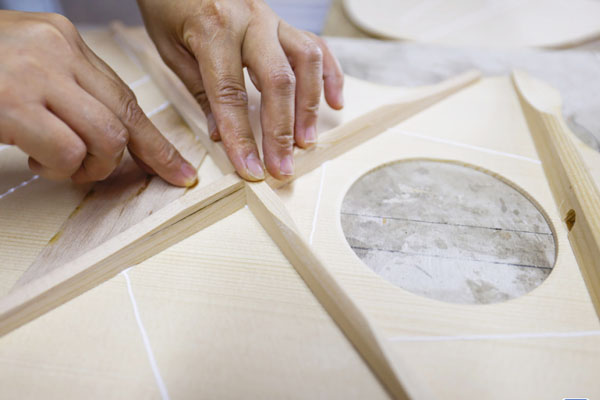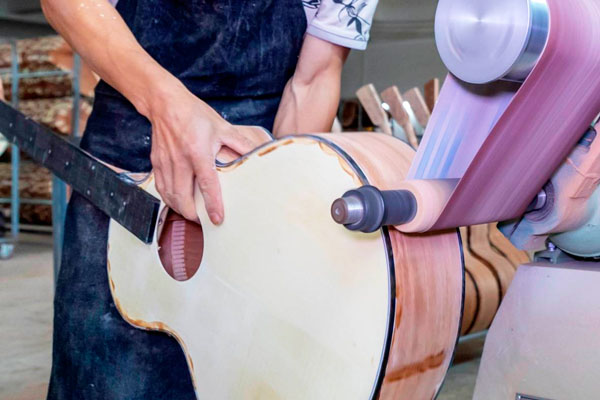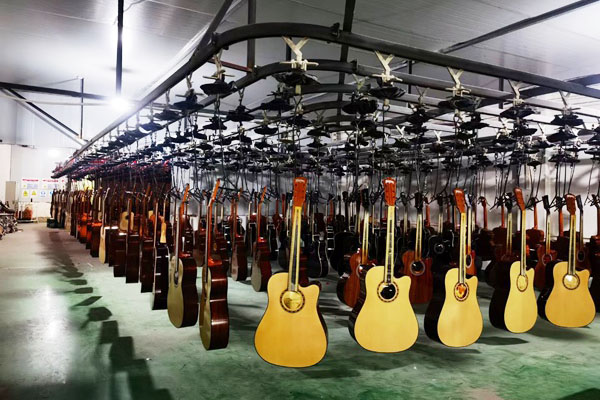 Trusted manufacturer of Beginner Guitar
OEM brand is welcome
Factory directly sells at competitive price
Many kinds of guitars and accessories chosen
Yes, we do. The minimum order requirements should depend on different models.
Yes, we can offer a sample to you to check the quality, if the musical accessories, we can offer free sample to you, you only to pay the freight fee, if you need guitar or Ukulele or Cajon Drum or Kalimba or Lyre Harp or Electric Guitar, we will return the sample fee to you while you place an order.
It depends the items and quantity of your orders and the season (busy or not) when you place the order. Usually it takes 35-60 days after having your confirmed order and down payment. For the sample order, it could be ready just within 7-14 days if we have products in stock.
You may send us the inquiry of your interested items, then we will according to your quantity to offer you best price and suggest the shipping ways for your reference, then after you confirmed, we will start on next step.
Small qty: EXW, DDP
Big quantity: FOB or CIF
Yes, we do. Normally, within 3 months under solid evidence, we will provide free replacements or credit notes for our customers. In practice, we do wholesale business, we always provide after-sales service for our customers. Considering the wood nature of the musical instruments, sometimes it is very difficult to classify the root cause of the problem, thus we always like to discuss with our customers case by case. It is sure we will always try our best to provide the solution for our customers.
Small quantity, we offer express shipping
Medium quantity, we offer Air shipping
Big quantity, we offer Sea shipping
Yes, it is. That will be our great pleasure. To be our local distributor, you need to prove your order and sales capacity per year within your market territory. We may consider giving you 6-12 months as a trial period. Within this period, you will be strictly protected the same as our sole distributor.
Payment terms:
100% advance payment for trial order customers before shipping
30% advance payment for old customers, 70% will pay before the shipping
L/C at Sight
Payment Ways:
Alipay for new customers
T/T to our company account
Western union
Paypal
As an importer, China offers great benefits for you.
China has world-renowned manufacturers who meet international standards.
Chinese manufacturers offer precise adjustments and inspection of the guitars.
In China, suitable shipping options are available for guitar orders.
Quality is guaranteed since world-class brands are already founded offering standard protection, warranties, and guarantees.
China offers affordable prices for guitars ordered.
China offers trendy and latest guitars.
China offers a variety of guitars with bright and clear high-end sounds.
Additionally, China is a hub for guitar and musical instruments supply.
You are guaranteed to enjoy the import process since China has trade agreements with many countries.
With a simple research, you can find the suitability of such agreements to your favor.
Nylon String Acoustic Guitar
You must be aware they are trendy and popular amongst beginners.
If you target learners, this type of guitar will suit your niche if you are targeting beginners.
Steel String Acoustic Guitar
You will be interested in importing this type for your clients since it is made of steel strings and are known to be louder and quite bright.
You will fulfill market demand with the purchase of this guitar.
You have a chance to offer your customers this type known to be loud and rely on amplification.
You have to order for the software and audio interfaces such as headphones or high definition speakers.
Classical guitars
You can offer your clients this trendy and classic guitar with various features:
Tops are made with either cedar or spruce.
This guitar's back and sides are made with mahogany or rosewood.
This guitar's body is deeper and woods somehow thicker.
It is designed to enable soloist to perform music similar to the orchestra box.
The right packaging for a guitar, whether in wholesale or retail should be as follows:
The strings must be loosened
The strings must have reduced tension to reduce pressure on the guitar neck.
The headstock of the guitar should be protected using a cover such as a bubble wrap and the tuners ought to be secured.
The bubble wrap should be made of a soft sponge which absorbs the shock.
All loose parts should be separated.
A proper case should be used for the guitar.
The guitars should be packed in boxes for shipping purposes.
The right labeling must be done.
Both methods are availed in both sea and freight.
You have to consider the quantity and urgency.
FCL is suitable for large purchases, and the container is for one supplier.
LCL is best for small purchases and is amongst many suppliers.
You can check the quality for the guitar first from scanning the manufacture and supplier.
Ensure they have the right certification, and they adhere to standard quality management practices.
Review the terms and conditions stipulated in their documents.
Documents such as specification sheets explain the materials, size, colors, etc. of the guitar.
If possible, visit the manufacturers physically and inspect the guitars.
Attending Music China seminars can also give you an opportunity to access different displays.
You can learn about quality standards from the exhibitors.
The MOQ for guitar importation from China depends on the color, size, order, and the supplier.
Different suppliers have varying MOQ.
Before making a decision, take into account the financial and budget capabilities.
Some suppliers often reduce their MOQ in order to accommodate the buyers considered to be smaller.
An example of MOQ for guitars may include the following:
Guitar sizes include 39 inches, 40 inches and 41 inch
One carton can hold six pieces
The Net Weight (NW) may include 12.5kg, 13 kg, and 14 kg
The Gross Weight (GW) may be 19kg or 20 kg
A 20GP may hold up to 200 pcs
A 40GP container up to 1150 pcs
A 40HQ may hold up to 1536 pcs
Delivery in stock after 5-7 days after payment. 30-50 working days for OEM orders
Most, if not all guitars are made out of wood. Wide families of wood are what are used in creating and producing guitars.
However, guitar manufacturers don't use the same type and kind of wood for all the parts.
As a matter of fact, it has been the notion to create and manufacture a guitar with different types and kinds of wood for its various parts.
Let's try to dissect and briefly explain each guitar part.
HEADSTOCK
The headstock is like the ultimate guitar part that can make or break your guitar.
It's where the tuning keys are attached to – and also where the strings are. Crafting the headstock is usually made out of wood (which is often, but not always) that the type of wood the neck is.
Headstocks are considered to be one of the easiest parts of a guitar to manufacture; you can make them using a single piece of wood.
BODY OF THE GUITAR
As you may have guessed, the body of a guitar is made out of wood. Because of the resonance that wood is offering, the sounds produced are better and clearer compared to other materials.
THE NECK OF THE GUITAR
Akin to the body, the neck of the guitar is also often made out of wood. However, there are times when manufacturers found other materials to be better and more effective.
The type of wood made for the body of the guitar, would oftentimes – not all the time – be the same type of wood to craft the neck.
BRIDGE OF THE GUITAR
The bridge of the guitar is almost always made from wood with a saddle. In electric guitars though, they can be made and produced from metal.
NUTS OF THE GUITAR
Among the various parts of the guitar, the nuts are the most versatile.
You can make them out of cow bone, brass, plastic, ebony, ivory, and even cow bone. They're either grooved or notched to make way for the strings to pass through.
FRETS OF A GUITAR
Oftentimes, guitar frets are manufactured and made up of nickel silver.
Other manufacturers experiment and try out other materials that offer the same physicality, but nickel silver is among the most popular.
FRETBOARD
The most common materials used by guitar manufacturers in using fretboards include rosewood, ebony, or other types of hardwood available.
TUNING KEYS
Your guitar wouldn't be manufactured without tuning keys or turning heads.
They're often made out of metal.
You can now understand what composes a guitar. It utilizes a wide array of materials. It has been this way back since the first guitar manufacturers mass-produced the instrument.
In the simplest way possible, a guitar is made up of 13 different parts:
1.Body
2.Bridge
3.Strings
4.String Pegs
5.Saddle
6.Fretboard
7.Sound Hole
8.Neck
9.Frets
10.Position Markers
11.Nut
12.Head Stock
13.Tuning Keys
Electric guitars and classical guitars might have different parts. But, all guitars have these parts as their skeletal structure.
You wouldn't be able to make a guitar work if one of these parts go missing.
Guitar, plucked stringed musical instrument that probably originated in Spain early in the 16th century, deriving from the guitarra latina, a late-medieval instrument with a waisted body and four strings. The early guitar was narrower and deeper than the modern guitar, with a less pronounced waist.
Guitar-like instruments date back almost as far as recorded history. The first known illustrations of its ancestor, the kithara, are almost 4,000 years old. These multi-string, fretted instruments are part of an instrument family known as chordophones. Basic guitar design spread and evolved across many cultures over the years. The guitar began to take its modern form in 16th Century Spain. These, it was still primarily used as a rhythm instrument for accompaniment rather than as a solo voice.
The development of a fanned bracing system in the early 19th century by Spanish guitarist Antonio de Torres Jurado made the instrument more durable and louder. Finally able to hold its own and project to a larger audience, guitar was off to the races. Most modern classical and flamenco guitars still use a bracing pattern that is essentially the same as the one Torres developed.
Despite its mostly European roots, most of the development of modern acoustic and electric guitars happened in the United States. It started when German immigrant Christian Frederick (C.F.) Martin invented a new X-bracing pattern around 1843. In increasing both volume and durability, this helped make the guitar more portable. It was suited to be the musical choice of a population that was increasingly on the move as the country expanded westward.
The development of the modern arch-top guitar traces to Orville Gibson, who began carving tops for his company's guitars in the late 19th century. Lloyd Loar added a violin-style f-hole in the 1920s. The punchy rhythm of an arch-top design could cut through the developing sound of jazz better. Still, the guitar was still not an instrument that could rise above the rest of the band as a solo voice, like brass and wind instruments could. It was time to plug things in.
Popular rumor has it that the first guitar pickup was a phonograph needle stuck into the top of a guitar. Maybe so, but there's not definite evidence, as attractive as the story is. It may stem from the fact that the first magnetic guitar pickup, designed by George Beauchamp for the Rickenbacker (then Ro-Pat-In) "Frying Pan" lap steel, started from Beauchamp's experiments with phonograph pickup assemblies. The Frying Pan, interestingly, is also an instrument that can also make a claim as being the first solid-body guitar.
The electric guitar really started to take off with a combination of Gibson's 1936 introduction of the ES-150 and its adoption by Benny Goodman guitarist Charlie Christian, who remains an inspiration for many guitarists today. The pickup that became known as the Charlie Christian pickup was a single-coil pickup that used a single bar as a common pole-piece for all six strings. It was originally developed for Gibson's lap steels, but placing one on the ES-150 was either a stroke of genius, or an example of sheer luck that established the electric guitar as the wave of the future.
As amplifiers grew more powerful and music got louder, many builders and guitarists began to experiment with the idea of guitars made from solid wood to ameliorate the problem of uncontrollable feedback howls that came with higher volumes. It was an idea that's time had clearly come, from the number of different versions of a solid-body guitar that began to appear in the 1940s and early 1950s.
Most credit Paul Bigsby with the first true solid-body non-lap-steel guitar. It was popularized by country-western guitarist and finger-picking legend, Merle Travis. Bigsby's guitar debuted in 1948, followed very shortly by Leo Fender's Broadcaster which was renamed the Telecaster in 1952 after having been nameless for a couple of years due to Gretsch already owning the original name. The 1950–52 guitar marked only with Fender on the headstock is popularly known as the Nocaster.
The rock-and-roll explosion of the 1950s and 1960s greatly expanded both the use and the technology of electric guitars. The release of Gibson's Les Paul models and Fender's Stratocaster were only the beginning. Soon came further development of the humbucking pickup along with revolutions in materials and electronics. With new design concepts like headless designs, multi-scale instruments, modeling electronics, and extended range 7-, 8- and 9-string guitars, the guitar's future has never looked brighter.
If the guitar lacks the Made in… label or a serial number, it could be an imitation. Check to see if anything is still missing or if the surface is beginning to wear out. Even if the guitar is a work of art, it will still look brand new. If the guitar was frequently played, it's most likely not a real guitar. Check the guitar's body for any loose parts. A genuine guitar will have a straight, polished surface, whereas a fake will have a curved or bumpy surface.
One of the primary factors in how a guitar feels and plays is the neck. Variations in scale length, commonly between 24.5" and 25.5", determine string tension, a major contributor to sonic personality.
Another consideration with necks is the curve of the fingerboard, also called the fretboard. Unlike classical and flamenco guitars, which have flat fingerboards, steel string guitars, both acoustic and electric, have slightly curved fingerboards. This curve is expressed as the radius of the circle that the fingerboard can be thought of as being part of. The smaller the radius, the more curved the fingerboard. Since your fingers are more curved than straight, the curve of a fingerboard makes it easier to play barre chords and fret multiple strings at once.